Brittany Campbell has released a new song and a self-illustrated video. Entitled "Matter," the project is a moving tribute to the Black Lives Matter movement, a rousing call for solidarity, unity, and resistance.

Brittany Campbell – Matter

www.youtube.com

---
Campbell, a first generation Jamaican-American and a multi-talented artist, began her career at the Metropolitan Opera at an early age. She appeared in Spike Lee's reboot of She's Gotta Have It as burlesque dancer Black Diamond, and then she performed as an understudy for Angelica and Peggy Schuyler in Chicago's Hamilton.
She met her girlfriend, Candace Quarrels, on the set of Hamilton, and together they formed the folk-R&B duo Mermaid, which will release an album this year that features production from Matt Otto (who has produced for Solange and Moses Sumney) and Sam Hoffman (Mereba). She's also a self-taught illustrator, drawing videos for the likes of supermodel Shaun Ross.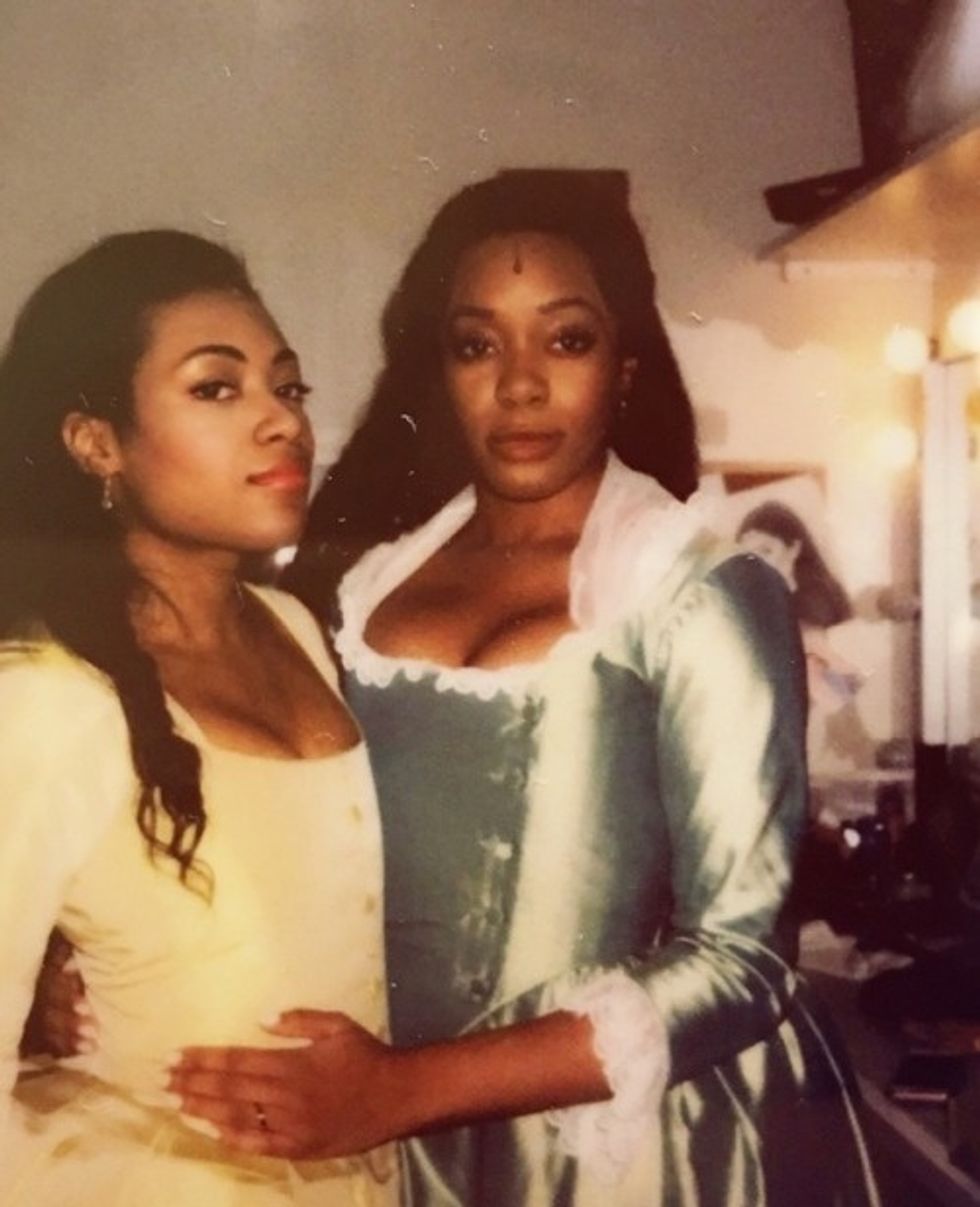 Brittany Campbell and Candace Quarrels in HamiltonTumblr

Mermaid – Dreamer

www.youtube.com

Campbell has released three full-length albums, most recently 2018's Stay Gold. Recently, she and Quarrels were featured on NPR's Tiny Desk Top Shelf show, curated by Alabama Shakes's Brittany Howard.

Tiny Desk Contest Top Shelf, Episode 2

www.youtube.com

Now, Campbell is turning her attention to Black Lives Matter, lending her perfect voice to the defining issue of our time.
The video and song, Campbell explained, was inspired by the frustrating interactions that many Black Lives Matter advocates are currently having as they debate the validity and morality of a movement intended to support Black people's lives. The song was inspired after Campbell entered a debate with a friend whose stores had been destroyed during the early BLM protests.
"I was having a lot of difficult conversations with people that I hold close to my heart," Campbell said. "I left many of these exchanges knowing something was missed or left unsaid. I thought, why is the statement 'Black Lives Matter' even up for debate? Why is it viewed as a political statement instead of fact?"
"I wrote 'Matter' to address everyone," she continued. "To encourage introspection and to keep peeling back the layers of ourselves."
The song's lyrics begin with a pointed address, a recognition of the racism that has plagued America for so long."Deep within, there's a poisoning / In our spirit, in our country," begins the song. "In our country / In our neighbors / When they see us / Are we here / do we matter?"
Her words are reminiscent of former presidential campaigner Marianne Williamson's argument that there is a "dark psychic force of the collectivized hatred" in America, one that won't be solved simply by a return to a "normal"kind of politics. When people still commit horrific racist acts against their fellow neighbors, as recently happened in Long Island, and when people are still being murdered constantly by police because of racism, it's clear that there's a larger sickness at work.
Campbell acknowledges that this sickness has global and historical roots, and in the song's next lines she calls out the legacy of violence and hypocrisy that led to America's current reckoning. "All the blood / Over centuries / In the name of freedom / God and country," she sings. "Our protectors / When they see us / Are we here / Do we matter?"
The song itself sounds almost hymn-like, beginning with angelic harmonies. A delicate guitar riff allows Campbell's expansive vocals to take center stage.
The video, which Campbell illustrated herself, features heartbreaking sketches of the countless Black Americans who have been killed by police in acts of violence over the past year. We see the faces of George Floyd, Breonna Taylor, Elijah McClain, Floyd Edward Smith, Robert Fuller, Monika Diamond, Nina Pop, and many others lost to hatred and abandoned by those who are supposed to protect them.
The video's central motif is a spinning atom, which pulses like a life force or a sign of change amidst illustrations of devastation and remembrance.
Ultimately, the refrain ties it all together: "I ask this for my babies still out there in the maybe / We wanna breathe again," Campbell sings, repeating the phrase that's defined so many of the protests. "We wanna breathe again."
Campbell accompanied the video's release with calls for support two BIPOC-led organizations dedicated to creating a better future for children and communities: Abundant Beginnings and Sista Afya.
"I know there are a plethora of causes we can be donating our money to in the name of BLM," Campbell said. "I feel particularly excited about these organizations. Abundant Beginnings is an org dedicated to educating youths in social and environmental justice. Sista Afya provides resources to Black women in order to sustain mental wellness and community. What I like about both of these, is that they are building towards a healthier and sustainable future."
Altogether, "Matter" is an empathetic call to action, the beautiful song another memorable contribution to the canon of protest music that's arising from this moment of turbulence and painful growth.