When Vogue magazine debuted their 2020 December issue, audiences were surprised to find a gowned Harry Styles on the cover.
The first man to appear solo on the cover of Vogue, Harry Styles is the picture of cool. Captured by Tyler Mitchell, whose career shot to prominence after being hand picked by Beyonce to shoot her September 2018 cover, Harry Styles wears an elaborate blue Gucci gown designed by his friend and frequent collaborator, Gucci's Alessandro Michele.
---
This is not the first time Harry has tested the boundaries of gender norms in clothing. Since his departure from One Direction in August 2015, Harry's solo career has been one defined by color and curiosity. No longer constrained by his 1D image, the "Watermelon Sugar" singer has taken the freedom to explore his own identity and tastes outside of any boundary he can break.
Naturally, this has opened him up to much media speculation, especially about his sexuality, all of which he has managed to expertly brush off with the ease of someone who is used to the scrutiny of fame.
No stranger to traditional women's clothing, this is not the first time Harry has played with gender normativity in his wardrobe. But the added mantle of a Vogue cover has invited new levels of commentary and criticism.
Prominently, conservative commentator Candace Owens made a plea for America to "bring back manly men," for which she has received severe backlash from celebrities such as Jameela Jamil and Olivia Wilde, as well as from fans and allies.
However, some of the commentary is more valid. Is it really so monumental that a cis white man has been allowed into a feminine space? Should Harry Styles be the face of gender non-conforming aesthetics, given his immense privilege?
In the interview for Vogue, Harry says: "There's so much joy to be had in playing with clothes. I've never thought too much about what it means—it just becomes this extended part of creating something."
While as an established, white artist, this may be true. However, for some, playing with gender norms is not so simple. Harry seems to understand this, speaking from his own experience and never proclaiming authority in his aesthetic choices.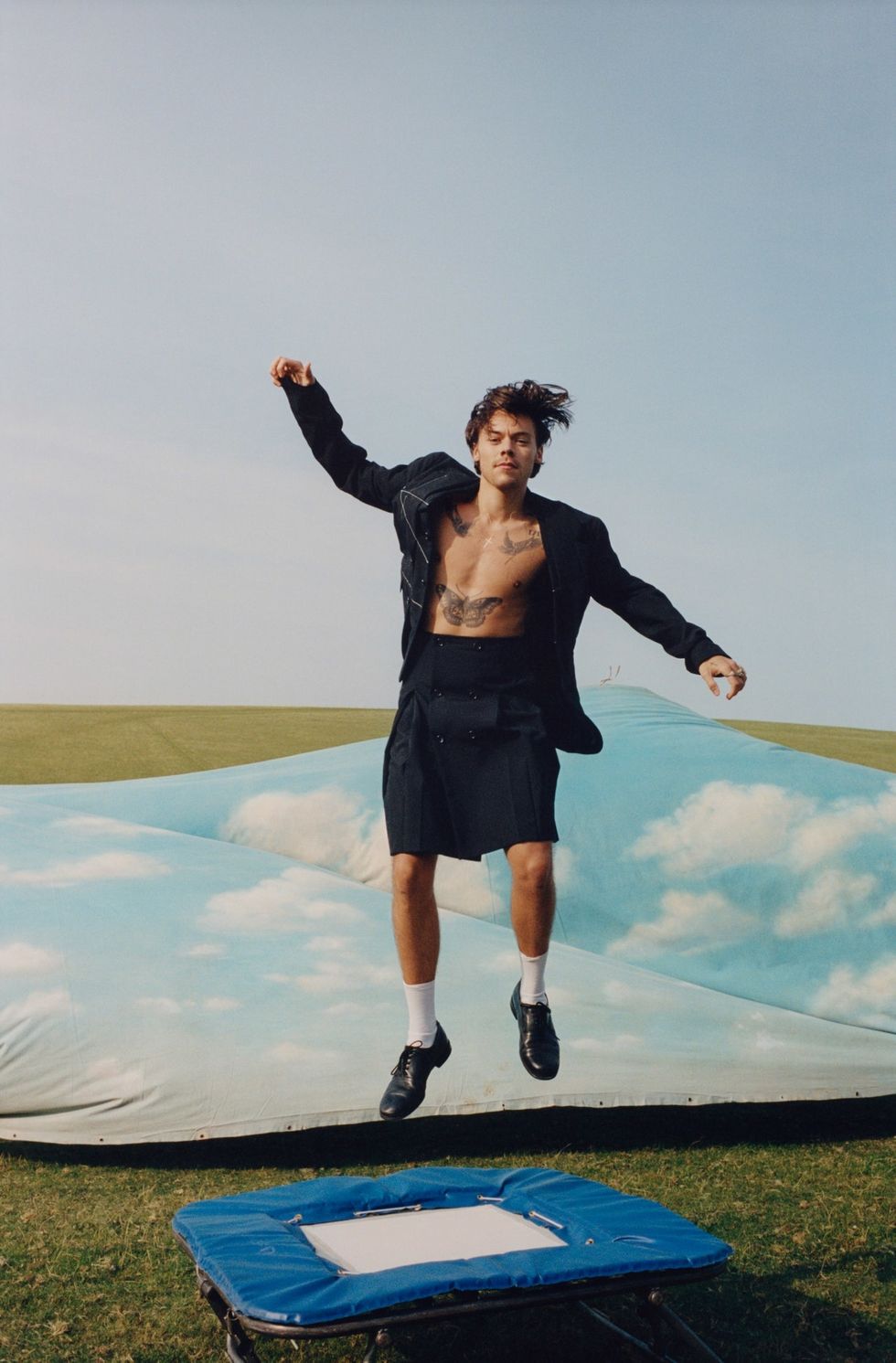 Harry Styles in Vogue wearing a kilt, a traditional Scottish male garmentPhoto by Tyler Mitchell via Vogue
In fact, Harry Styles is actively referential to those who came before him. His interview is peppered with praise for his inspirations, both musically and aesthetically. His Vogue cover is a deeper foray into a world that has been opened up by so many of his predecessors and that many contemporary artists are exploring, too.
Notably, many artists who have famously tested the boundaries of gender expression have been Black. This is no surprise — with Blackness already considered outside the homogeneous norm and so much of the music created by Black culture being resistance art, experimentation with aesthetic presentation has always been part of that resistance.
And of course, queer artists have been at the helm of the effort to bury the gender binary. While Harry has resisted any labels to his sexuality, openly queer and gender nonconforming performers have used their platforms to draw attention to the aesthetics pioneered by marginalized communities.
In a simpler world, we'd all be like this: playful, happy, full of so much joy. Here are 10 other male musicians who have actively played with gender norms throughout their career, each opening the door to that world a little wider.